About Chris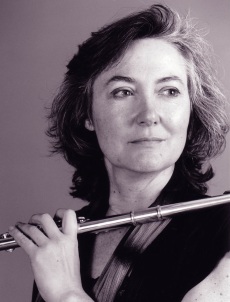 Chris Poole is a composer and one of Denmark's most original jazz flute players. She is known from her many solo concerts where Chris Poole has developed her own personal style which she expresses in her improvisations and flute compositions.
She exploits the whole spectrum of traditional and untraditional flute sounds in a merging of jazz, minimalism, world and modern compositions music.
Chris has a duo with guitar player Kasper Søeborg and also with piano player Marietta Wandall. She also creates music for many of the Norwegian theater and film production company Visjoner's productions.
Chris Poole came to Denmark from USA in 1975 and is today a Danish citizen. She has played in many different bands and has composed music for theater, film and modern dance theater. Chris Poole has her degree from Berklee College of Music. She was the first women to complete Berklee's solist line and has studied with Gary Burton, Andy McGee, Joe Viola and James Newton.

The music she wrote for a production of "The Lady from the Sea" for Berkeley Repertory Theater, San Francisco was chosen best musical work for drama in 1993.

Chris is also an experienced teacher and is available for both individual and classroom teaching jobs. She is mentioned in Grove's Dictionary of Women Composers (1995) and has 4 CD's and a CD-rom out in her own name.

You are welcome to contact Chris about concerts and she is also interested in creating new music for film, theater and multimedia productions, ect.