Music for theater and film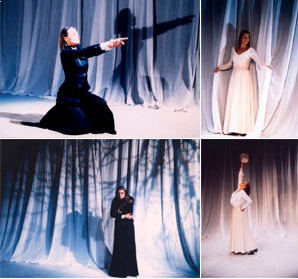 Chris Poole has collaborated many years with the Norwegian actress Juni Dahr and her theater and production company Visjoner (Visions). Chris has created music for several of Visjoner's theater pieces amongst others; "Joan of Arc _ vision though fire" and "Ibsen Women – Put an eagle in a cage.....". Both theater pieces have toured around the world and can still be booked.

In other countries Chris and Juni have collaborted in theater performances in San Francisco "The Lady from the Sea" and in Barcelona "Doll's House" (in Catalalonian) where Chris composed and recorded the music in the performances. You can read more about these and other performances on www.dahr.no and see when and where Chris og Juni perform next time in the Calender.